FIRST VISIT
A child's first dental visit is an important milestone that is instrumental in establishing optimal dental health. Just like you would take your child to the pediatrician or family practitioner for "well visits" and routine check-ups, dental checkups are important to assess your child's oral health.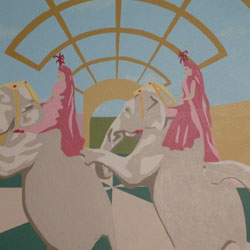 During these appointments, we want to educate the parent and child about dental decay, nutritional and preventive habits, tooth eruption and future orthodontic needs. Research continues to suggest that healthy teeth and gums are associated with lower chances of chronic disease syndromes (diabetes, heart conditions, etc) as a person ages. That is why we support The American Academy of Pediatric Dentistry's (AAPD) recommendation that children should be seen by age one or when the first tooth erupts (whichever occurs first).

We understand that there may be anxiety associated with going to the dentist. That is why our highly skilled team strives to make your child's first visit a non-threatening and fun time while assessing your child's dental health.

Our staff has been specifically trained to recognize each child's individual needs while making them as comfortable as possible in a dental environment designed especially for them.

As the parent/legal guardian, you also have a very important role in preparing your child for their first visit. Regardless of what your dental experiences may have been in the past, present the visit as a fun time, where our trained staff will "count", "brush", and "take pictures" of their teeth. By explaining terms this way, your child will better understand the purpose of the visit. Always avoid negative phrases that may cause anxiety such as "drill", "shot", "pull", "pain", etc. Please do not allow your own past experiences to influence your child's expectation of his/her visit. If your child is under 3 years of age, we usually will perform our exam with you and your child in our consultation room. Some 2 y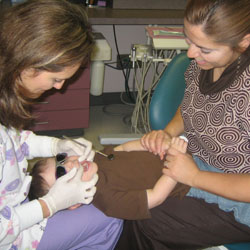 ear olds however will come to our "big room", especially if an older sibling accompanies him/her. For those children under age 3, we like to keep these appointments fairly simple and allow your child to become familiar with our environment. We will perform what we call a "lap exam" in which your child will sit or lie in your lap while we "count" teeth and examine related dental structures. Finally, we will make sure you have the necessary nutritional and preventive information to help you keep your child on a path to healthy oral hygiene.
If your child is over age 3, we generally ask that you allow them to accompany a friendly staff member through the dental experience. Even though most 3 year olds will come back by themselves, there are occasions when we feel it best to see your 3 year old in the consultation room with a parent and postpone the visit to the "big room".
You may ask,"Why can't I go back with my child"? We strongly believe this allows our team the ability to establish a closer rapport with your child. Children tend to react to the fears and concerns of their parents, and it is our experience that they are more responsive and cooperative if parents are not present during treatment. Our purpose is to gain your child's confidence and overcome any of his/her apprehension. Your child can be proud of being able to do it all by him/herself.
Please remind your child that our friendly staff and dentists will explain all their specific dental needs in terms they can understand and answer any questions when we are finished "sparkling" their teeth.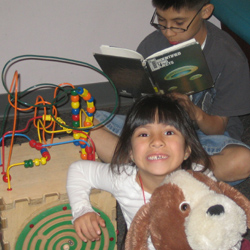 Once we have completed the exam and cleaning, a trained member of our team will discuss your child's dental needs with you. We will review preventive measures including proper brushing and flossing techniques as well as discuss dietary information that minimizes risk factors for cavities. Finally, our team will answer any questions you may have and provide suggestions to help you and your little one achieve optimal dental health.
Finally but equally important, we feel your child's experience is more than just brushing, flossing, and checking his/her teeth. The key to our being able to treat your child's dental needs is through establishing a consistent and lasting relationship with them in a warm, caring, and safe environment. That is why we try to allow your child time to watch a movie or cartoon, listen to music, read a book, and/or play with Legos, puzzles and puppets. We want to help your child build positive "dental" memories that develop into positive "dental" habits.
OTHER SERVICES WE OFFER
· Infant Care
· Emergency Care
· In office
· Continuous Sedation
· Continuing Care
· Interceptive Orthodontics
· Mouth guards